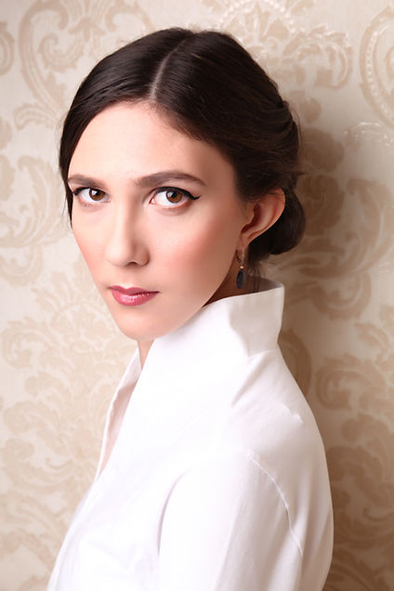 Poe, Lara
(*1993)
Lara Poe (b. 28. July 1993) is a young composer, who has already attracted international attention with her orchestral and instrumental works. She was born in the USA, near Boston, but has spent a considerable amount of time in Finland (particularly northern Finland), her mother's native country.  In 2016, Poe moved to London in pursuit of graduate studies, and she is currently studying for a PhD at King's College London, under the supervision of George Benjamin and Silvina Milstein. Previously, she received a masters with distinction from the Royal College of Music, London, where she studied with Kenneth Hesketh, and before that her bachelor's degree from Boston University.
According to Poe, composing is a delicate process which cannot be rushed.  Different ideas and impulses undergo a process of cultivation, where the piece gradually finds a suitable form and shape.  However, at some point, it feels as though the piece starts to write itself, Poe states. She has received several prizes for her works. In 2017, Poe was the first female winner of the BMI Student Composer Awards William Schuman Prize. The previous year, she won the American Prize in Chamber Music Composition (Student Division) and in 2020 the Theodore Holland Intercollegiate Composition Prize. In 2021 her work represented Finland at the International Rostrum of Composers, and she was also a nominee for the Ivors Composer Awards in the Large Scale Composition category.
In the autumn of 2020, Poe participated in the Lahti Symphony Orchestra Sibelius Festival's Nursery Garden Initiative, and she wrote Kaamos as a result of this project. The spellbinding sound world of Kaamos evokes an atmosphere of silence and wintery twilight, which Poe has experienced in northern Lapland at the darkest time of year. Our Hospitality: Waterfall Scene (2019) was written for the Tanglewood Festival of Contemporary Music, when Poe was a Tanglewood Music Centre Fellow in 2019.  She, along with the other composition fellows, was asked to write music for a short clip of a silent movie, totalling 7 minutes and 50 seconds in length. The music reflects the fast-paced action and ever-present river and waterfall that are integral to this scene. In 2018, Poe took part in the London Symphony Orchestra's Panufnik Scheme, and Noctilucous was written for this initiative. Here, Poe explored a variety of timbral and textural possibilities within the scope of the orchestra. Noctilucent Clouds (2020) is an expanded version of this work. Meanwhile, Contradanse (2017) was originally written for the Royal College of Music for conducting students auditioning for the RCM's conducting programme.  Contradanse has subsequently received several performances, both at the RCM, along with a performance in Tanglewood.  Apart from her orchestral output, Poe's oeuvre mostly includes chamber music and other instrumental works.
Kaamos
(2020)
for orchestra
2(II=picc)2(II+ca)2(II+bcl)2(II+cfg)-2221-02-str Percussion 1: Timpani, Snare Drum, Bass Drum, Crotales, Glockenspiel, Marimba Percussion 2: Snare Drum, Tamtam, Vibraphone
Duration: 10
Noctilucent Clouds
(2020)
for orchestra
3(III=picc)3(III=ca)3(III=bcl)3(III=cfg)-433(III=btrb)1-13-hp-pf-str(div.a4-4-3-3-2) Percussion 1: Bass drum, Brake drum (ideally tuned to around F#, or if this not possible, close to A# or C#), Gong (should be tuned to G#), Crotales, Xylophone, Tubular bells, Bass bells, Whip Percussion 2: Suspended cymbal, Crotales, Glockenspiel, Vibraphone (shared with Perc.3), Agogo bells, Maracas, Mark tree, Temple blocks, Vibraslap (can be mounted) Percussion 3: Tamtam, Marimba, Vibraphone, Tubular Bells
Duration: 18
Our Hospitality: Waterfall Scene
(2019)
for flim and chamber ensemble
1(+picc)101-1010-str(11111)
Duration: 8