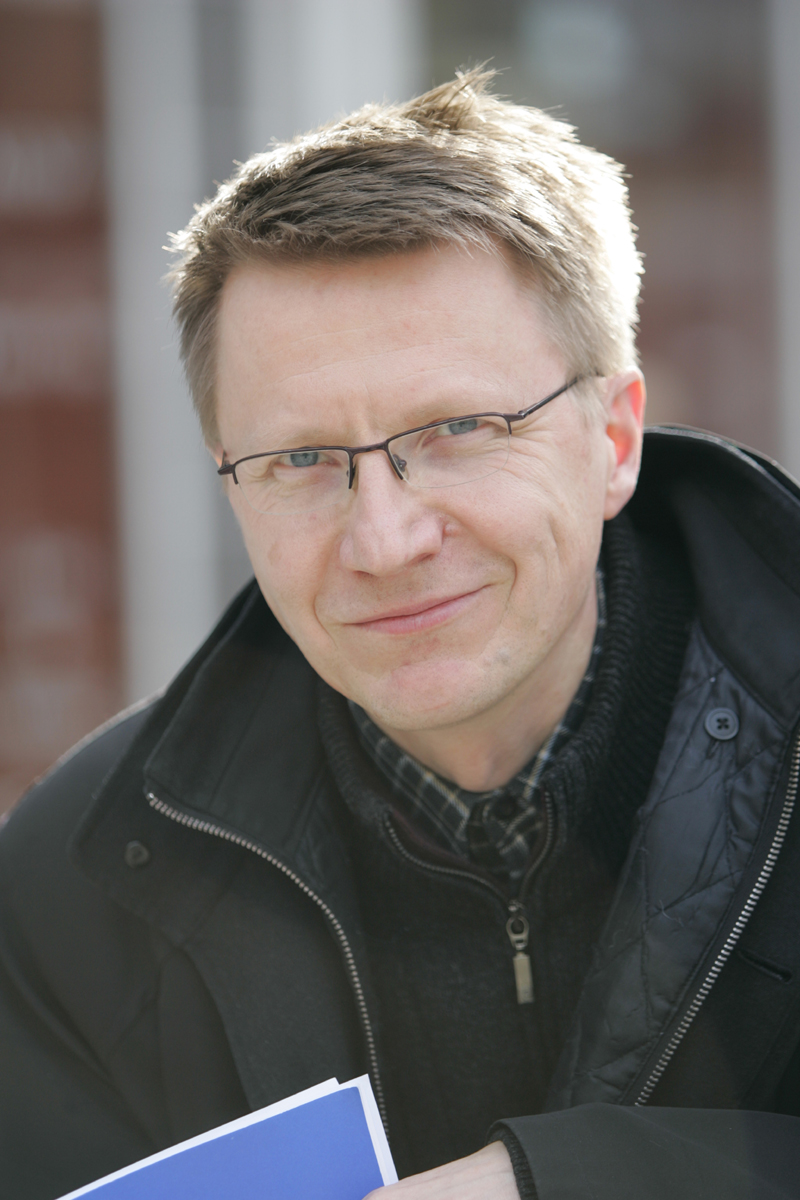 Tuomela, Tapio
(*1958)
Tapio Tuomela (born 11 October 1958) graduated from the Sibelius Academy with diploma degrees in piano and conducting. He continued his piano and conducting studies in Soviet Union and his composition studies at the Eastman School of Music in Rochester, New York receiving the Master of Music degree in 1990. He has also studied composition at Hochschule der Kunste in Berlin, at master classes by Witold Lutoslawski, George Crumb, Klaus Huber, Brian Ferneyhough and at the summer course of IRCAM in Paris.
Tuomela's main works are the stage works The Ear's Tale (Korvan tarina), Mothers and Daughters (Äidit ja tyttäret) and Antti Puuhaara, his three symphonies and his other orchestral pieces.  Tuomela's works often have a connection to the Kalevala (e.g. Lemminkäinen, 2002) or Lapland's nature and culture (Jokk, 1995). He has also written a Piano Concerto for Iiro Rantala in 2008 and Swap – Concerto for Saxophone and Sinfonietta, premiered by Joonatan Rautiola and the Joensuu Orchestra in April 2013. His latest opera Neljäntuulentie (Crossing of Four Roads), based on the best-seller novel of the Finnish writer Tommi Kinnunen, had ten sold-out performances at the Oulu Opera in 2017. Part of the material was reworked for his 3rd symphony 'Crossroads' premiered by the Lahti Symphony Orchestra in their concert celebrating the centenary of the Finnish Independence in December 2017. Tuomela has also composed choral music as well as several chamber and instrumental works which are popular repertoire of many a musician.
Tapio Tuomela received the Kalevala Prize in 2005 for integration of the Finnish "rune" heritage in his contemporary musical language. His opera Mothers and Daughters was the Finnish candidate for the Nordic Music Prize in 2004 and its recording appeared in the "Top five" of the Magazine Fanfare classical music new recordings of 2009.
Tuomela's works have been performed at several international festivals of contemporary music and Nordic Music Days, among others. His compositions have been twice selected by the UNESCO Rostrum, and he has received commissions by orchestras or ensembles in Scandinavia, France, Germany, Spain, Portugal, and Russia. He has had portrait concerts in Helsinki, Antwerp, Paris and Turku and he has been invited as a featured composer in the Nordic Music Festival in St Petersburg and Festival Musiques Demésurées, Clermont-Ferrand.
Other large-scale works include music to the silent film Noidan kirot (Spell of the Sorcerer), commissioned and performed by the Finnish Radio Symphony Orchestra in October 2010, and the chamber opera/melodrama Antti Puuhaara (2009), which has been performed nearly 30 times by Ensemble Musicatreize and recorded along with a book with illustrations by Hannu Väisänen. Among his orchestral works are Lemminkäinen, Music for Film I, Double Sinfonietta, Lappic and Nordan as well as Vuohenki luohti (The Song of Vuohenki) for mezzo-soprano and orchestra. Many of these reflect his affection for the arctic cultures and the elemental power of its nature.
Tuomela has been Artistic Director of the Time of Music, Composer-in-Residence of the Joensuu Orchestra, and Chairman of the Society of Finnish Composers. He appears as conductor at times, with contemporary music and opera as his specialities, and has performed with professional orchestras in all Scandinavian countries, Germany, Spain, Portugal, Russia, and Lithuania.
See also: Tapio Tuomela home page
Antti Puuhaara
for speaker, mixed choir and instrumental ensemble (2007-08)
cl - acc - hp - vl - vla - vc
Duration: 66
Double Sinfonietta
(2003)
2222-2110-01-str
Duration: 16
Jokk
(1997)
for orchestra
2222-2221-02-str
Duration: 11
Lamentation 1
Tuli tuuli, tuli aalto (1998-99)
for 3 ethnic sopranos (ad lib), soprano and chamber orchestra
1011-1000-str(11111)
Duration: 5
Lamentation 2
(1998-2003)
for soprano and chamber ensemble
1011-0000-pf-str(11111)
Duration: 6
Lappic [Chamber Orchestra]
(2003)
for chamber orchestra
1111-1000-str
Duration: 15
L'échelle de l'évasion [The Escape Ladder]
for 11 instrumentalists (1988-89)
1(picc)201-1000-2perc-str quartet
Duration: 13
Lemminkäinen
(1999-2002)
for orchestra
2222-4221-02-hp-pf(+cel)-str
Duration: 14
Mothers and Daughters
(1998-99)
Chamber opera
Solists: 6 female singers, 3 ethnic sopranos, 1 male singer 2221-2111-20-pf(+cel,+keyboards)-str(min 44321)
Duration: 100
Music for Film I
(2010)
for orchestra
2(II+picc)22(II=cl.picc)2-2201-02-pf-str Perc.1.: Crotales, Anvil,Tamtams (small, medium small, medium, medium large),Suspended Cymbal, Sizzle Cymbal, Rain Stick, Tomtoms (5), Wood Blocks (5) Perc. 2.: Vibraphone, Celesta (optional), Piano, Rain Stick
Duration: 8
Nordan
(2003)
for orchestra
3333-2331-13-hp-str
Duration: 10
Piano Concerto
(2008)
222(II+bcl)2-2200-02-str
Duration: 32
Quasi Herzstück [string ensemble]
(1999)
3vl, 1vla, 2vc, db(ad lb)
Duration: 10
Quasi Herzstück [string orchestra]
(1994)
for string orchestra
str
Duration: 10
Scherzo
(1994)
for piano and string orchestra
str
Duration: 8
Sea-Drift
(2006)
for voice and piano quintet
pf, 2vl, vla, vc
Duration: 15
Swap
Concerto for saxophone and orchestra (2012-13)
for alto saxophone (alto & soprano) and orchestra
2.2.2.2-2.2.1(ossia tuba).0-0.2-str Perc. I: Timpani, Gong, Vibraphone, Glockenspiel II: Triangolo, Gran cassa, Bell Tree, 2 Suspended Cymbals (small, medium), Chinese Cymbal, Anvil, Tam-tam (large), Tom-toms, Cymbal on Timpani, Guiro, Hi-Hat, Bass Drum (with pedal)
Duration: 25
Symphony
(1991)
for orchestra
2222-4231-13-pf-synth-str(min 12.10.8.6.4)
Duration: 24
Symphony No. 2
(2005)
for orchestra
3333-3331-14-hp-pf(+cel)-str
Duration: 30
Symphony No. 3 "Crossroads"
for orchestra
2(II+picc&afl)22(II+ecl&bcl)2(II+cfg)-4231-02-pf-str(some cb need C string) Percussion: 5 Timpani, 2 Tenor drums, 5 Tom-toms, Bass drum, Suspended cymbal, Sizzle cymbals, Gong, 2 Tam-tams, Triangle, 2 Wood blocks, Metal wind chimes, Rain stick, Anvil, Crotales, Glockenspiel, Vibraphone, Tubular bells
Duration: 15
Transition
(1969)
for ensemble and tape
2keyb,2perc, tape
Duration: 16
Vuohenki luohti / The Song of Vuohenki
(2000-01)
for mezzo-soprano and orchestra
2222-4221(or 4230)-01-pf(+cel)-str
Duration: 17