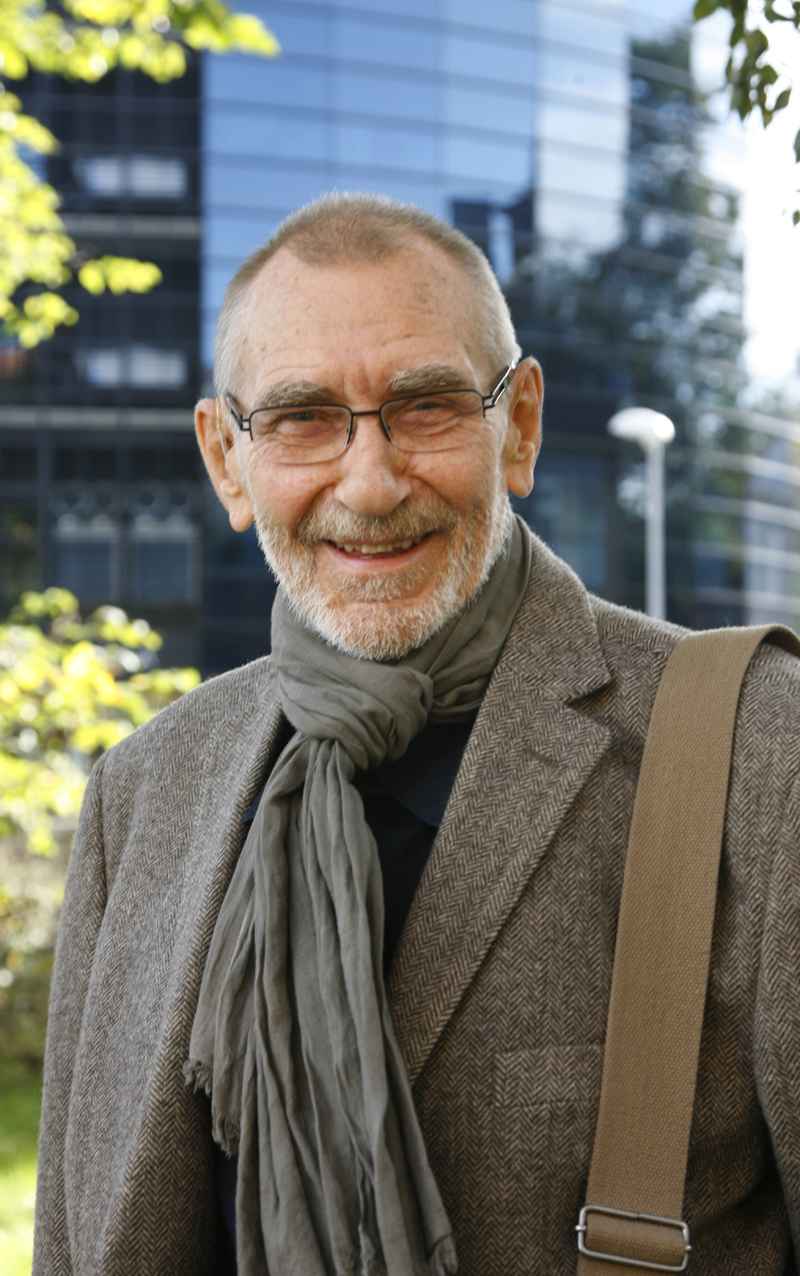 Tormis, Veljo
(1930-2017)
Veljo Tormis (7. August 1930 – 21. January 2017) was Estonia's most influential choral composer who has been  recognized especially for his vocal and choral works. For him, music began with words; he did not have "purely musical" ideas. Tormis was a real master of large-scale choral composition. His music is often connected with ancient folk songs of Estonian and other Balto-Finnic peoples. The best-known works in this genre are the Curse upon Iron (Raua needmine) and the song cycle Forgotten Peoples (Unustatud rahvad) – an extensive work which the composer worked on for nearly twenty years consisting of six cycles, each including a number of songs.
His acquaintance with the music of Bartók and Kodály during a visit to Hungary in 1962 was to have a great influence. Tormis has confessed that the choral compositions of Kodály were particularly close to him, and that one of his most popular cycles, Autumn Landscapes, was written under their influence. It is a part of the Looduspildid (Nature Pictures) (1964-69) consisting of four choral cycles depicting varying atmospheres of different seasons: Kevadkillud (Spring Sketches), Suvemotiivid (Summer Motifs), Sügismaastikud (Autumn Landscapes) and Talvemustrid (Winter Patterns). Many choral works by Tormis are available in English translations.
Veljo Tormis finished another great cycle, Estonian Calendar Songs in 1967, which was the starting point for "the Tormis' style", as we now know it, and several choral suites based on ancient folk songs of different peoples followed. No longer did Tormis use a folk tune as a melodic idea for further motivic development; instead, the old rustic songs sounded in his compositions in their original manner. Around them Tormis has built truly symphonic choral textures and dramatic musical structures. Other works include The Bishop and the Pagan (1992), commissioned for the King's Singers and Kullervo's Message (1994), commissioned for the Hilliard Ensemble. Tormis has composed several works using the English and Latin translations of the Finnish epic the Kalevala. Pärismaalase lauluke (An Aboriginal Song) is one of Tormis's most popular choral songs. Its shamanistic rhythm lies in the syllable "tabu-tabu" repeated over and over again. The words actually meant "taboo" depicting the inability of the Estonians to speak out during the Soviet occupation.
Tormis studied composition at the Moscow Conservatory with Professor Vissarion Shebalin, graduating in 1956. He has taught at the Tallinn Music School and worked at the Estonian Composers' Union. Apart from choral works Tormis has composed stage works (e.g. the opera Swan Flight / Luigelend), solo songs, and few instrumental and orchestral pieces, among them the popular Overture No. 2 for symphony orchestra.
Luigelend / Swan Flight
for orchestra and female choir (ad lib.) (1965/71)
for orchestra and female choir (ad lib.)
2121-3(ossia+2)2(ossia+2)10-13-hp-pf-str Perc: triangolo, piatto sospeso, tam-tam, legno, xylofono, gran cassa, tamburo piccolo, piatti a 2, tom-tom
Duration: 17
Overture No. 1
(1956)
for orchestra
3(I=picc.)222-4331-12-hp-str Perc: Triangolo, Tamburino, Tamburo, Piatti
Duration: 6
Overture No. 2
(1958)
for orchestra
3(I=picc).2.3(III=cl.b).3(III=c.fag)-4.3.3.1-1.1(tamb.mil)-str
Duration: 10
Reminiscentia [Complete]
(1969/2009)
for chamber orchestra
trp-2perc-str 1. Kevadkillud (Spring Sketches) 4' xyl-str 2. Suvemotiivid (Summer Pictures) 6' sd-cym-metallophone-str 3. Sügismaastikud (Autumn Landscapes) 10' str 4. Talvemustrid (Wintern Patterns) 6' trp-strings 5. Jaanilaulud (St. John's Day Songs) 15' tamtam-str
Duration: 41
Reminiscentia. Suvemotiivid
[Summer Pictures] (1967/2009)
2perc-str Percussion: Snare drum, Cymbals, Metallophone
Duration: 6
The Ocean / Ookean
Suite from the Music for the Drama by A. Stein (1961)
for orchestra
2(II+picc.)222-4231-14-str Perc: Tamburo militare, Piatto sospeso, Gran cassa, Tam-tam, Campanelli 1. The Ocean / Ookean 2. An Oldtime Waltz / Vana valss 3. Dreams / Unistused 4. Anger / Viha 5. Melancholy / Nukrus 6. Snowstorm / Tuisk 7. Sailor's Farewell Waltz / Meremeeste lahkumisvalss 8. Finale / Finaal
Duration: 21