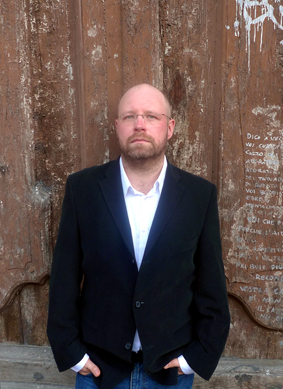 Reinvere, Jüri
(*1971)
The Estonian-born Jüri Reinvere (born 2 December 1971) has been described as true cosmopolitan with Estonian roots. He first moved out to Poland when he was eighteen and studied composition at the Warsaw Music Academy in 1990-92. After that he lived in Finland studying at the Helsinki University (1992-1994) and the Sibelius-Academy (1994-2004). An influential teacher for Reinvere has also been Käbi Laretei, an Estonian-Swedish pianist and writer.
Reinvere's music has been known as transformational, highly versatile and subtle, and it is characterized by unpredictability and unreality. In Reinvere's poetical thinking, one can follow philosophical themes, such as the concept of time, the enigma of God, the psychological depths of man and the state of trauma in post-soviet societies. Reinvere's opera Purge (Puhdistus) to Sofi Oksanen's successful novel was premiered in 2012 at the Finnish National Opera, and it was followed by international acclaim. The Norwegian National Opera commissioned a new opera from Reinvere: his interpretation of Peer Gynt, one of Norway's national epics, was premiered on 29 November 2014 at the Oslo Opera House. Reinvere wrote his own libretto based on Henrik Ibsen's play. Fennica Gehrman also publishes Reinvere's 12-minute orchestral piece Norilsk, the Daffodils (2012) for tape and large symphony orchestra.
Jüri Reinvere has also published essays and poems, worked for the Estonian and Finnish Radio, produced and written screenplays for documentary films, translated and co-written books as well as written the libretto for his earlier opera, Purge. He has lived and worked in Berlin since 2005.
Norilsk, the Daffodils
(2012)
for tape and big symphony orchestra
3(III+picc)3(III=ca)3(III=bcl)3(III=cfg)-6331-13-hp-pf(+cel)-str +tape(recitor)
Duration: 12
Peer Gynt
Opera in two acts (2013-14)
for soloists, choir and orchestra
3(III+picc)3(III=c.ing)3(I&II+escl.III=bcl)3(III=cfg)-4331-14-pf+cel-2hp-str
Duration: 65
Puhdistus [Purge]
Opera in two acts (2011)
3(I=picc,II+altfl).3(III=c.ing).3(II+clpicc,III=clb).3(III=cf)-4.3.3.1-1.4-2hp-Pn(Cel)-tape-Coro + Sol-Str.(div max in 4)
Duration: 0