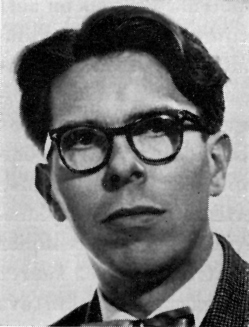 Rautio, Matti
(1922-1986)
Matti Rautio (1922-1986) was a composer and a teacher and brother of Erkki and Paavo Rautio. He studied at the University of Helsinki, graduating in 1945, and was taught composition at the Sibelius Academy by Leevi Madetoja and Aarre Merikanto.
Rautio worked as a librarian, piano teacher and lecturer in folk music at the University of Tampere. As an editor of educational music, he chaired the Association of Finnish Music Teachers for ten years in 1961-71. Rautio was Aarre Merikanto's only pupil to remain faithful to Neo-Classicism. His best-known work, the Divertimento No. 1 for cello and orchestra (1955) is playful and lyrical, displaying his characteristic humour in the cancan. Kalevi Aho has orchestrated Rautio's Divertimento No. 2 for cello and orchestra.
Matti Rautio's work list includes also a 24-minute Concerto for Piano and Orchestra dating from 1970-71. Rautio has also edited piano albums such as Pianomusiikkia 1-2 (Music for Piano 1-2) and Sonatiinista Sonaattiin 1-2 (From Sonata to Sonatina 1-2).
Concerto for Piano and Orchestra
(1970-71)
3(II+picc.III+picc+altfl).3.3(III+ebcl).3-4.3.3.1-1.5/6-hp-cel-str Perc: Crotales, Campanelli, Silofono, Campani, Triangolo, Claves, Tamburino (a2), Maracas, Castagnetti, Guiro, Cow Bell, Legno, Frusta, Temple Block, Piatti, 3 Piatti sospesi (high, medium, low), Tamburo, Cassa rullante, Gran cassa, Tam-tam, Gong
Duration: 24
Divertimento No. 1 for Cello and Orchestra
(1955)
2(I&II+picc)122-2221-02-str Percussione: Tamburo militare, Gran cassa, Piatti, Tamtam, Glockenspiel, Silofono, Legno, Temple block I Alkusoitto (Overture) 3' II Kehtolaulu (Berceuse) 5' III Can-Can 2' IV Itämainen tanssi (Danse orientale) 4'
Duration: 14
Divertimento No. 2 for Cello and Orchestra
[orch. Kalevi Aho] (1972)
2122-2221-01-str
Duration: 10