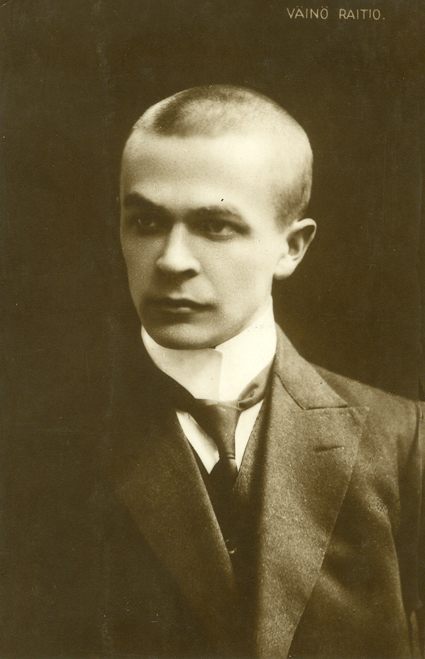 Raitio, Väinö
(1891-1945)
Väinö Raitio (15.4.1891-10.9.1945) studied at the Helsinki Conservatory in 1911–16 and continued his studies in Moscow, Berlin and Paris. After a period of teaching at the Viipuri Music Institute (1926–32) he lived as a freelance composer.
With Ernst Pingoud and Aarre Merikanto, Raitio was responsible in the 1920s for introducing the first period of chromatic but not serial modernism in Finnish music. His early output was bound by Romanticism, but in Moscow and Berlin he received new influences that made his style more radical: his harmony was affected by Skryabin and German Expressionism, his orchestration by Debussy and other French impressionists. The first work to show these new features was the tone poem Joutsenet (The Swans, 1919), still traditional in form and melodic writing. Much more complex and powerful in structure and expression are the Fantasia estatica (1921) and the symphonic trilogy Antigone (1921–2), which are perhaps his most impressive achievements. They are, without any doubt, influenced by Skryabin's ecstatic visions.
During the 1930s Raitio also wrote a considerable number of other orchestral compositions and his style became increasingly conventional.
Antigone
(1921/22)
for orchestra
4334-3341-12-2hp-cel-str
Duration: 23
Fantasia poetica
(1923)
for orchestra
4333-4431-12-2hp-cel-str
Duration: 10
Joutsenet [The Swans]
(1919)
for orchestra
33(III=c.ing)3(III=cl.b)3-4331-12-cel-str
Duration: 8