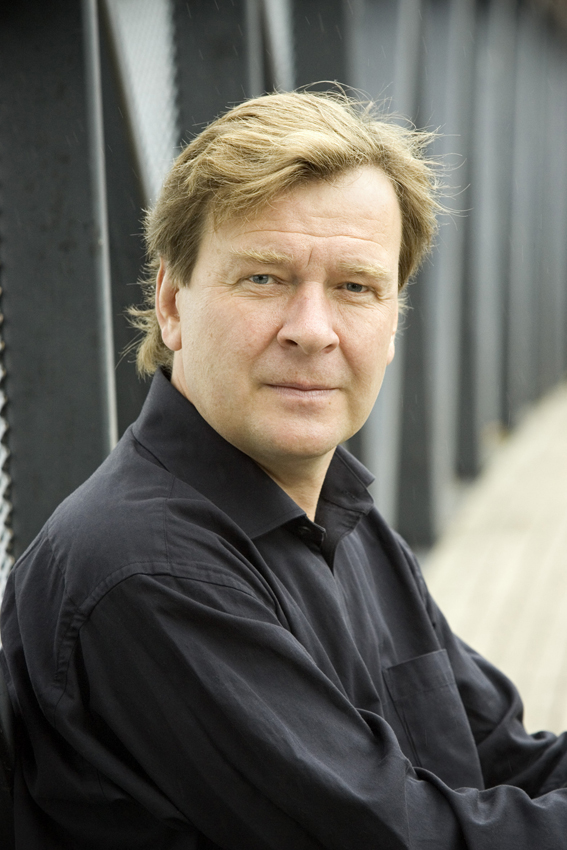 Lindberg, Magnus
(*1958)
Magnus Lindberg (born on 27 June 1958) studied piano and composition at the Sibelius Academy under Paavo Heininen and Einojuhani Rautavaara in 1977–81. He continued his composition studies in Paris and attended courses by Franco Donatoni, Helmut Lachenmann and Brian Ferneyhough in Siena and Darmstadt. In 1977–78 he worked at the electronic music studio in Stockholm and since 1986 on several occasions at IRCAM in Paris. In Finland he was – together with Eero Hämeenniemi, Jouni Kaipainen, Kaija Saariaho, Esa-Pekka Salonen, Olli Kortekangas and Jukka Tiensuu – a founding member of the Ears Open Society, devoted to the study and performance of contemporary music neglected by established institutions. In 1980 he founded the experimental Toimii! Ensemble (It Works!), a workshop of 6 or 7 musicians, in which many of his compositional ideas have been forged and tested.
At the outset Lindberg was captivated by serialism and other organizational methods he discovered in the music of Stockhausen, Babbitt and other. His early works, before Zona (1983, rev. 1990), were often based on complex formal schemes that controlled rhythm, tempo, pitch and register. He has since widened his horizons to spectral music, elements of minimalism, Berlin punk, progressive rock and ethnic music of South East Asia. He melds skillfully elements from different sources into a unity of style that avoids any sense of postmodern stylistic shifting.
Fennica Gehrman publishes Lindberg's early works including the expressive and energetic Sonatas for solo violin dating from 1979, and …de Tartuffe je crois – a piano quintet which was one of Magnus Lindberg's early successess. It won the Unesco Composer Rostrum in 1982. Zona for cello and seven players borrows its name from Tarkovsky's film Stalker, in which the main character leads his clients to a site known as the Zone. The cello part of this piece is extremely virtuosic, covering a wide spectrum of timbres and testing the very limits of expression. Ritratto for 18 players (1983) is proof of Lindberg's early, gritty Modernism, but it also points the way to the future being an action-packed virtuoso piece.
...de Tartuffe, je crois
[performance material available for sale] (1981)
for piano quintet
pf, 2vn, va, vc Sales material (POD)
Duration: 11
Ritratto
(1979-83)
for instrumental ensemble
2(II+picc)12(II+picc)1-2000-01-pf-str(3 vl,2 vla, 2 vc, 1db) Percussione: Marimba, 3 Wood blocks, 5 Temple blocks, Crotali, Triangolo (piccolo), Glockenspiel, 3 Almglocken, Piatto sospeso (piccolo), Tam-tam (grave), 2 Bongos, 5 Tom-toms, Gran cassa, Claves, Tamburo basco, Grelots
Duration: 13
Zona
(1983)
for violoncello and instrumental ensemble
vlc solo + 1(=altfl)01(=cl.b)0-0000-01-hp-pf-violin(1), double bass (1) Percussione: Caisse claire, 2 Bongos, 2 Congas, 1 Tom-tom (large), Gran cassa, Glockenspiel, Crotali, 2 Triangoli (medio, grande), Almglocken (not mounted, to be played with a bow), Hi-hat, 3 Piatti sospesi (piccolo, medio, grande), Chinese cymbal, Metal block (medium size), 1 Wood block, 5 Temple blocks, Wood chimes
Duration: 20