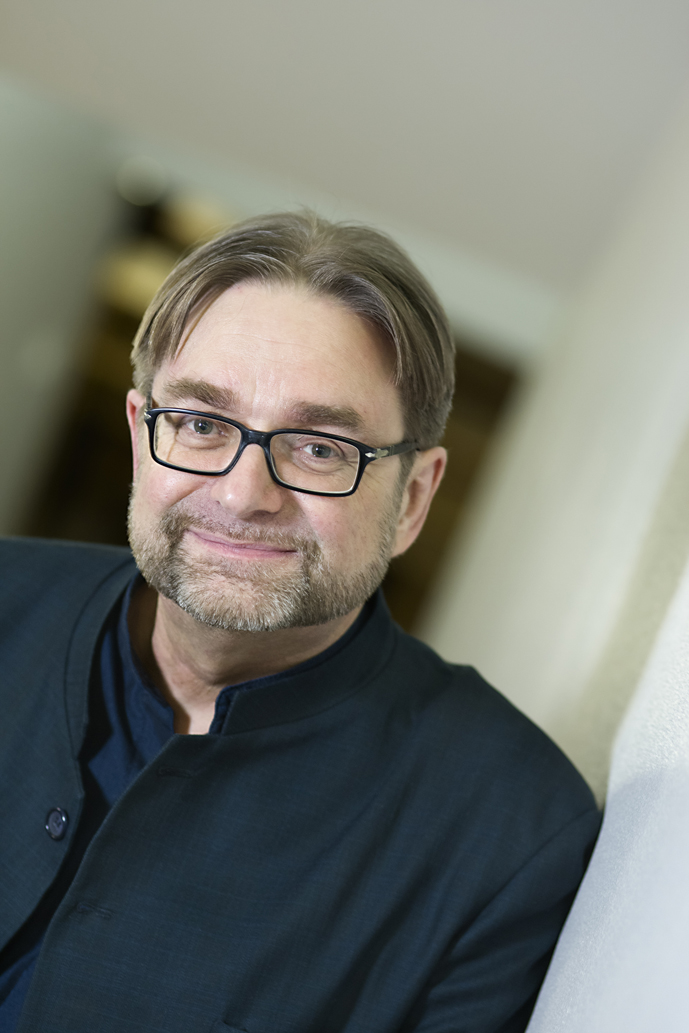 Hämeenniemi, Eero
(*1951)
Eero Hämeenniemi (born on 29 April, 1951) studied with Paavo Heininen at the Sibelius Academy in Helsinki. He continued his studies with Boguslaw Schäffer in Kraków and Franco Donatoni in Siena, before spending a year in the USA at the Eastman School of Music, where he studied with Joseph Schwantner.
In 1977 Hämeeniemi was one of the founding members of the Ears Open Society, but he soon distanced himself from its starting-point, which was the mainstream of Central European Modernism. Since travelling to India, his interests have been at the carnatic music of South India as well as improvisation (often with Indian musicians and dancers) and jazz. He has also taught music theory and composition at the Sibelius Academy.
Hämeenniemi is primarily a composer of orchestral and chamber music in a freely chromatic, lyrical style. In the 1990s he began to adopt elements from outside Western art music, and they became an organic part of his musical language. The blending of European and South Indian traditions increased in the 1990s and reached its peak in Lintu ja tuuli ('The Bird and the Wind', 1994) for soprano, strings, and Indian classical dancers. Hämeeniemi has also composed symphonies, a Violin Concerto (1991), works for soloist and orchestra (such as Efisaes for piano and 12 solo strings and Dialogue for piano and orchestra) as well as jazz works for big band. His choral piece Nattuvanar won the Unesco Rostrum in 1994.
Concerto for Violin and Orchestra
(1991)
for violin and orchestra
3232-4221-12-hp-pf-str
Duration: 20
Darshan
(1990)
for flute and 12 solo strings
12 solo strings
Duration: 7
Dialogue for piano and orchestra
(1985)
for piano and orchestra
2122-2220-11-str
Duration: 14
Efisaes
for piano and 12 solo strings (1983)
5 vl, 2 vle, 3 vc, 2 db
Duration: 7
From a Book I Haven't Read
(1993)
for big band
1. Of Wandering 221/4/4/pf/elg/elbas/dr/perc 2. Just a Stage 221/4/4/pf/elg/elbas/dr/perc 3. Several Costly Decorations 221/4/4/pf/elg/elbas/dr/perc 4. To Bind 220/4/4/pf/elbas/dr/perc/bcl 5. Not Knowing Why 220/3/4/pf/elg/elbas/dr/perc/bcl 6. This Same Call 121/4/4/pf/elg/elbas/dr/perc/fl
Duration: 60
From Navarasa (The Nine Moods)
(1993)
for big band
1. Sringara (An Erotic Atmosphere) 221/4/4/pf/elg/elbas/dr/perc 2. Adbhuta (Astonishment) 110/4/4/pf/elg/elbas/dr/perc/fl/cl/778bcl 3. Rudra (Fury) 220/4/4/pf/elg/elbas/dr/perc/bcl
Duration: 35
Kolme laulua baletista Loviisa
Three Songs from the Ballet Loviisa (1987)
for mezzo-soprano and orchestra
2222-0211-01-hp-pf-str
Duration: 5
Lintu ja Tuuli (The Bird and the Wind)
Five Songs of Birth and Death (1993-94)
for soprano, Indian classical dancers and string orchestra
str(55432) or str 12(33222) Choreography: S. Jeyasingh Also available as concert versions (The Dances of the Wind / Tuulitanssit and The Songs of the Bird / Lintulaulut)
Duration: 37
Lintulaulut
The Songs of the Bird (1994)
for soprano and string orchestra
str
Duration: 15
Music from the Ballet Loviisa
(1986-87)
for orchestra
2222-2221-02-hp-pf-str
Duration: 19
Symphony No. 1
(1983)
for orchestra
2232-4221-11-pf-str
Duration: 20
Symphony No. 2
(1988)
for orchestra
3232-4221-14-hp-pf-str
Duration: 30
The Dances of the Wind
Tuulitanssit (1994)
for string orchestra
str(55432)
Duration: 15