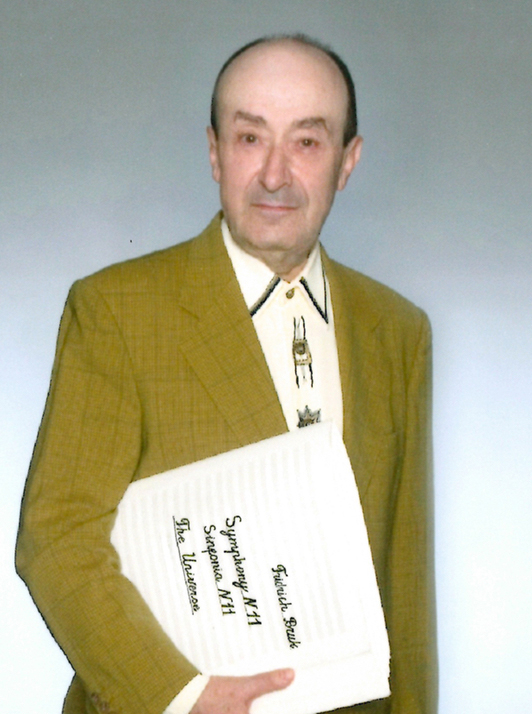 Bruk, Fridrich
(* 1937)
Fridrich Bruk was born in Ukraine in 1937 and has been living in Finland since 1974. His music has been inspired by Finnish culture, history, folk songs and the Kalevala.
According to Rob Barnett, "Fridrich Bruk has asserted his own individuality in the varied landscape that is Finnish music. He has done so by embracing native Finnish material in a way that nourishes his own distinctive brand of early 20th-century free-tonal music".
Bruk's musical output ranges from tangos to symphonies. Fennica Gehrman has published his solo piano music, e.g. the pedagogical suites Lyrical Images (Lyyrisiä kuvia) and Winter (Talvi) as well and chamber music.
Kasvot väkijoukossa
Tango
Vocal + orchestra
2221 2220 11 0, dr, acc, band, guit, elbas lib, pno, str, voc Key: d minor
Duration: 3
Soi maininki hiljainen
Tango
voice and orchestra
2.2.2.2 -2.2.3.0-0.2(Triangle, Susp. Cymbal, Rainmaker, Marimba)-2hp-pno.cel-str Key: e minor, f sharp minor
Duration: 4
Soi maininki hiljainen
Tango (1987)
vocal + orchestra
2121 2220 01, acc, pno. guit, elbas, dr, str, voc Key: e minor, f sharp minor
Duration: 4
Steppe [SALES MATERIAL]
(1962)
suite for woodwind quartet
fl-ob-cl-fg
Duration: 9